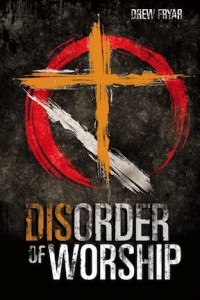 There are plenty of overwhelmingly scholarly theological volumes in which one can read about the minutiae of doctrinal differences—about hermeneutics and pneumatology and soteriology—and certainly there's a place for such study. Drew Fryar is more concerned with what happens in the trenches, with the (not so) little things that usually don't come up at church board meetings:
When first time visitors come to your church, are there signs clearly directing them to the corral for their children?
Does your church bulletin contain only a little about your charitable work? Ratchet it up: Where can food be donated? When does this church donate blood or volunteer at the battered woman's shelter? Include emotional pleas and clear details.
Got rooms sitting empty for 90-percent of the week? [T]here is always one of these: A book club, basketball pick-up game, Bible class, Meals on Wheels stocking, after school tutoring, day care, luncheon, Kiwanis meeting, community education classes, English as a second language classes, free movie night, CPR training, cooking class, community theater rehearsal, knitting, quilting, first aid, benevolence (food, clothes, over the counter drugs, tools, utensils, bus passes, coupons, gift cards).
When I reviewed Disorder of Worship last year, I was struck by both Drew's conversational, self-effacing voice and his very pragmatic approach to addressing some of the problems he sees in today's church.
Drew, why did you write Disorder of Worship?
When you're a person of strong opinions, as I am, you're only going to feel comfortable at church if you're intimately involved. I wanted to tell every church I've ever gone to what it was doing wrong. When I couldn't hold it in any longer, I decided to write it all down. This isn't a hate book. I love the church. We need some tweaks because we're dying. Commonly, I think our churches that are leaking people have a tendency to think it was because they asked too much. I think we've been asking too little. We need more faith and more deeds.
Disorder of Worship concerns itself with practical guidance for greater spiritual engagement. What sort of reception to such a perspective—as opposed to one focusing solely on prayer meetings and such necessary, though ethereal, pursuits—have you noticed?
None. We can't all be bestsellers (Ha ha). But I think it will be difficult for some 95-year-old caricature to act like we're forgetting God's work. All of my ideas—most of my ideas—are about facilitating more faith. I want more prayer meetings, and potlucks, and signings, and…everything.
You wrote, "a church should be about the Lord's business." This seems so clear, and soundly biblical, so why do so many churches seem to miss the point?
Life gets in the way of Eternal life. You know when someone famously nuts guesses when the rapture will be and is always wrong? That still increases church attendance across all denominations. People are pretty sure that the guy is wrong, and all mainline churches say he's wrong, but people are that superstitious. But that's our nature. People want to work towards one moment; but that long, cold, slow walk towards forever causes us to forget that the GATES of hell will not stand up to our storming. Christians haven't stormed anything in…forever. Obviously, I'm not literally talking about storming the Bastille or Congress; but these days we'd like to think "not backing down" is our version of courageous.
It's still that simple statement that resonates with me most: A church should be about the Lord's business. One could do worse than to keep that thought firmly in mind in all things. Drew Fryar has crafted a very readable work—insightful, timely, honest, humorous yet filled with depth—that would not be out of place at the top of every church leader's Body of Believers Spring Cleaning Checklist.
Drew invites all to connect with him on Facebook. Or to email him at drew.fryar@gmail.com. Or even to send a physical letter to him at 6411 Pacer Trail, San Antonio, Texas 78240. (It is not for me to say whether all are also welcome to show up at this address with casseroles.) "If you're in South Texas," Drew says, "I'd love to substitute preach for your congregation. Anywhere else and you'll have to fly me to you; but I'd still love to." Disorder of Worship is available through the Xulon Press Bookstore, Amazon.com and bn.com.
Tags: Spring Cleaning